I successfully made cookies for the first time last week. Every other attempt failed miserably, to the point where I'd given up. Cookies are supposed to be easy, but apparently not for me. I'd been invited to an event where cookies were expected, so I gave it a go.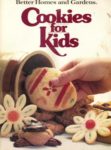 I found this recipe in an old Better Homes and Gardens cookbook called Cookies for Kids. It has photos of kids aged 5 to 10 years old making cookies in it. I figured this would be hard for me to screw up.
I doubled the recipe from the book though. I think it worked out better because there was more stuff for the mixer to work with and so it all got mixed better. Directions below are how I did it, not a copy from the book.
Equipment
Stuff I need to make sure I have cleaned and available.
large mixing bowl
medium mixing bowl
small saucepan
hand mixer
2 cookie sheets
parchment paper
storage bins for finished cookies
bowl for drained cherries
cup to hold cherry juice
Ingredients
butter, 2 sticks, room temperature
sugar, 2 cups
eggs, 2
vanilla extract, 3 teaspoons
all purpose flour, 3 cups
unsweetened cocoa powder, 1 cup
baking soda, ½ teaspoon
baking powder, ½ teaspoon
salt, ½ teaspoon
maraschino cherries, 2 jars (this was overkill, but I used more than 1 jar worth)
semisweet chocolate chips, 12 ounce package
sweetened condensed milk, 1 cup
Instructions
Add butter and sugar to a mixing bowl
Beat with a hand mixer until fluffy and thoroughly mixed
Add eggs and vanilla
Beat well
In another mixing bowl, stir together flour, cocoa powder, baking soda, baking powder, and salt
Add part of flour mixture to butter mixture
Beat until well mixed
Repeat last two steps until all of the flour is combined with the butter
Shape the dough into 1 inch balls, placing each on parchment paper on a cookie sheet about 2 inches apart (made enough to fill about 2½ sheets)
Press thumb into the middle of each cookie, squashing them down
Drain cherries, reserving the juice in a cup
Put a cherry in the indentation in each cookie
Combine chocolate chips and condensed milk in a saucepan
Melt over low heat, stirring occasionally
Stir in enough cherry juice to make the chocolate spoonable
Spoon a dollop of chocolate over each cookie, enough to cover the cherry
Bake at 350° til edges of the cookies are firm (was about 13 minutes for me, book said 10)
Transfer cookies to a cool surface to cool
Gallery of photos at most steps taken below. Forgot to take photos of the finished cookies, which were tasty, by the way.