Hello! May I feed you some pie?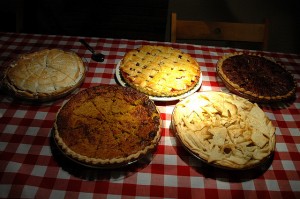 Yes, it's time for Pie Night again. Come to Voxx Coffee on Eastlake Ave on May 7th at 7:30 p.m. for a pie extravaganza!
The concept for Pie Night is simple. I make lots of pie (10 pies for the last pie night, plus another dozen brought by others) and people eat pie. There is no charge for Pie Night.
Pie Night starts at 7:30 p.m. sharp and ends at 10:00 p.m. Please arrive promptly. I will not save pie for you. As noted, Pie Night itself is free. Beverages, including beer and wine, are available from Voxx Coffee for reasonable prices. Pie Night welcomes your pies if you have made them yourself; no store-purchased pies please. Pie accessories such as whipped or iced cream are welcome. Children are welcome so long as you don't mind them listening to adult conversations.
For those who have dietary restrictions, let me know when you R.S.V.P. so that I may accommodate you. I'm quite happy to make dairy-free and gluten-free pies and can likely deal with other issues as well.
Please invite your friends or forward this invite. I started Pie Night to meet people!
I do request R.S.V.P.s so that I can provide pie for everyone. To R.S.V.P., comment on this post on my blog or LiveJournal, or add yourself to the Pie Night Facebook event.