I've been remiss in not posting some promotional/reminder stuff for the upcoming Pie Night. So here's the scoop: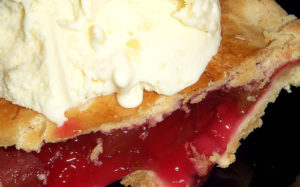 Pietoberfest, the next Pie Night is October 17th, officially from 4 p.m. to 11 p.m.
What is Pie Night? It is a celebration of pie! People come over, and then we eat pie. Sometimes before the sugar crash hits, we converse. There are fruit pies, cream pies, chocolate pies, and meat pies. There are all sorts of pies.
This time I am going to post the rules in the the form of frequently asked questions, because people never seem to read them if they are rules.
Do I have to bring pie?

No. You do not have to bring a pie. I will make enough pie.

Can I bring pie?

Yes, you can bring pie.

Can I bring a cake?

No.

What about cookies? What about cake-pie?

The concept is Pie Night. Every time there's some joker who thinks it's funny to ask these questions. It's about as funny as Jay Leno. If you ask these questions I will revoke your license to breed.

My pie didn't turn out. I forgot. I ran out of time. What's the nearest store so I can pick up a pie?

The nearest store for approved Pie Night store-purchased pies is in Chaiten, Chile, which is currently evacuated due to volcano eruption. In other words, do not bring a pie from a store! This is to encourage people to attempt their own pies. If you don't make a pie, just come and eat pie.

Can I bring anything?

Ice cream and beverages are always welcome, particularly alcoholic beverages. I do not drink, so you don't want me picking out your alcohol.

Can I bring friends?

Yes.

Can I bring my kids?

If you don't mind your kids hearing ribald discussion, yes.

Should I R.S.V.P.?

Yes yes yes! Please let me know in the comments or on the Pietoberfest Facebook event if you intend to come, how many friends you plan to bring, and whether you intend to bring pie. I need to know how much pie to make. I don't mind a few last minute additions or cancellations, but if I end up with 50 people when I expected 25, you may not get pie.

When is it again?

Saturday, October 17th, 4 p.m. to 11 p.m. (come early if you want, though)

Where is it?

My condo. It's small but we're all friends, right? 2301 Fairview Ave E. Ring WEISS on the call box out front.
Image Long Slice of Pie Ala Mode 4 of 4 by cobalt123 used under a Creative Commons Attribution Non-Commercial 2.0 license.