And here's what I've finished reading since my last update in May.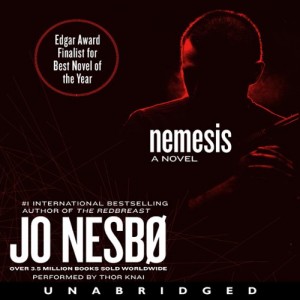 Nemesis by Jo Nesbø
I consumed this one also in audio format. Replacing Robin Sachs as narrator was Thor Knai, and I quite enjoyed his reading. Audible reviewers didn't like him, and he was very rough. But I was happy to hear Norwegian words and names pronounced like Norwegians do. Harry Hole works to solve both the murder of a bank teller in the course of a robbery, as well as the putative suicide of an ex-girlfriend with whom he'd recently been in contact. This is all about the Scandi-crime vibe, as both murder mysteries are of the extremely intricate variety that makes me repeatedly exclaim "Oh come on!". Those only work as crimes if everything goes exactly as planned. They should fall apart well before Harry Hole gets involved.
Galileo's Middle Finger by Alice Dreger
As I noted over on the book blog, one of the things I think should be included in any review of non-fiction is whether or not the stuff in the book is true. Ms. Dreger's story is engaging and probably informative at some level. However, even a cursory listen to the audiobook raised some huge red flags for me. A large portion of the book is about conflicts between activists (mostly left-leaning) and scientists (supposedly fact-based) where the scientists lives have been ruined because the activists had no regard for the truth and also made personal attacks removed from the issues about the science. But… aside from some nastiness on the internet, not one of the scientists described had their life ruined. Not one lost a job. Not one had to live in hiding. Which isn't to say scurrilous charges of unethical science should be encouraged, but I think her premise on the "ruined lives" front wasn't backed up.
Central to Ms. Dreger's book is the account of J. Michael Bailey and his book The Man Who Would Be Queen. In it, Mr. Bailey presented another researcher's theory of transgender as transsexualism, that transgender people are of two main types: effeminate homosexuals and autogynephiliacs, or men who are turned on by the idea of being being women. Here's the thing about Galileo's Middle Finger: it presents the theory as being backed by science and so Mr. Bailey's book was scientific and the attacks on him were activism. But I couldn't help notice while listening that there's little discussion in it of research that backs up the theory. It comes off as both Bailey and Dreger making up some sloppy categories to fit their notions and then working hard to slot transgender people into those categories. And that's just from a cursory listen to the book. So the narrative of science versus activism didn't hold up in my view, because there wasn't much science described.
A few other chapters cover Ms. Dreger's work on intersex people and intersex rights. As a narrative of her involvement nothing stood out as poorly as the activist vs. science part did.
I wouldn't warn people away from the book, but I'd read it all with a huge grain of salt.
Mending the Moon by Susan Palwick
I've been Facebook connected with Susan Palwick since I purchased a hand-made scarf from her in 2014's Con Or Bust fundraising auction. I subsequently read her book Shelter and quite liked it. She was in Seattle in July for Clarion West, and so I went to her reading and picked up Mending the Moon. Though published by Tor, it's not heavily science fiction. Melinda Soto goes on vacation to Mexico where she is brutally murdered by a young fan of the comic book Comrade Cosmos. Melinda's son is also a big fan. The book is the story of the characters' grief processes. I had a mixed reaction to the book. On one hand, very little happens and I kept wanting some plot progression. But on the other hand, the characters are fascinating and the best portrayal of the many faces of grief that I've ever read. As someone who went through the deaths of my three closest family members in the course of 18 months, I learned a lot about my own grief. I very quickly became acquainted with other people's stereotypes of grief and how I wasn't doing it right. Each character in Mending The Moon has their own reaction, and all of them felt very real. Not one is the right way to do it. Highly recommended for these portrayals.