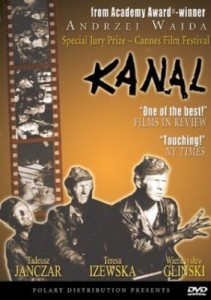 Sunday I watched a second movie in the Andrej Wajda Criterion Collection, Kanal. Really good film. I liked it even more than Ashes and Diamonds. It's even more depressing, but I didn't like it for that.
Set during the Warsaw Uprising, Kanal tells the story of a 40+ man unit of the Polish resistance. At first they take over an apartment building where they intend to rest for a bit before fighting the German army. Several of the men have lovers, including one who is somewhat part of the unit. The Germans attack, and the unit loses half it's men. Afterward, they are ordered to travel to downtown Warsaw via the sewers to reinforce the rest of the Polish resistance there. The largest part of the movie is them crawling through filth in the sewers, trying to find the proper way out. Wouldn't want to come up amid a German army encampment.
My favorite thing about the movie? Teresa Iżewska's character Stokrotka. She's a blond who's schtupping Tadeusz Janczar's Lieutenant Jacek. She doesn't exactly travel with the men, but travels through the sewers out of downtown Warsaw to meet up with them. During the first battle scene though, Jacek gets himself shot while disabling German mini-tank. Stokrotka accompanies him as the unit heads back through the sewers to Warsaw. Being injured, Jacek can't keep up, but Stokrotka knows the way, so it isn't quite the problem you'd expect. The irony about the whole thing is that while the men almost uniformly treat the women as lesser-than, Stokrotka is by far the strongest of the entire group. They get freaked out by the sewers and filth, but she's the one bravely soldiering on, telling them it ain't so bad, that they'll make it through. She more or less carries Jacek through when he starts becoming delusional from his wounds. The tragedy is that she's in love with the oblivious Jacek, who thinks she's so tough that she'd never fall in love with anyone. He's too bull-headed to see what's in front of him.
Obviously, there's a lot more to the film than that, but that's the reason to watch it. Oh, for sure it's a good depressing Polish war movie. If you are into that. But Teresa Iżewska is a terrific actor playing an awesome role. That's the best.