Today I've been working on a collateral line, mostly trying to establish what happened to the father of an in-law, Emma Christiansen. In 1910, she appears in a family with Jens and Anna Christiansen as parents in Mason City, Iowa. But in 1920, her parents are Joseph and Anna Lytle. Anna remarried and was living with a second husband. Obviously, something happened to Jens between the 1910 and 1920 censuses.
Someone had helpfully uploaded to Ancestry an image of a page of inscriptions from a family Bible or similar. Here's the inscription for Jens:

Yet, I couldn't find anything that corroborated that date. Looking on Find a Grave, there was a marker for a J.M. Christiansen in the Elmwood St. Joseph Cemetery in Mason City.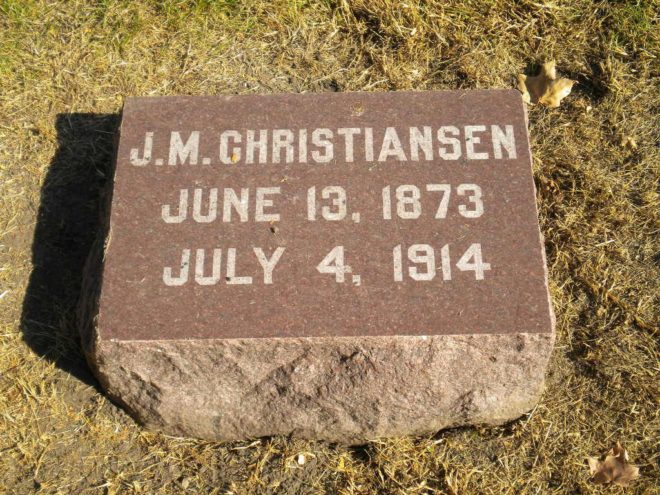 But I couldn't find anything to corroborate that date either!
FamilySearch has an index record for a Jens Christiansan who died on 5 Jul 1915. Unfortunately, I can't access the image from home and I don't have the keys to sneak into a FamilySearch center (it's Christmas Eve folks!), so I'll have to look at that in a few days. However, I suspect that's the correct date as I've found something to corroborate it.
On 6 Jul 1915, the Mason City Globe-Gazette published an obituary for a James M. Christiansen. Despite the misnaming, I know this is the correct person because later in the obituary the writer lists all his children, including Emma.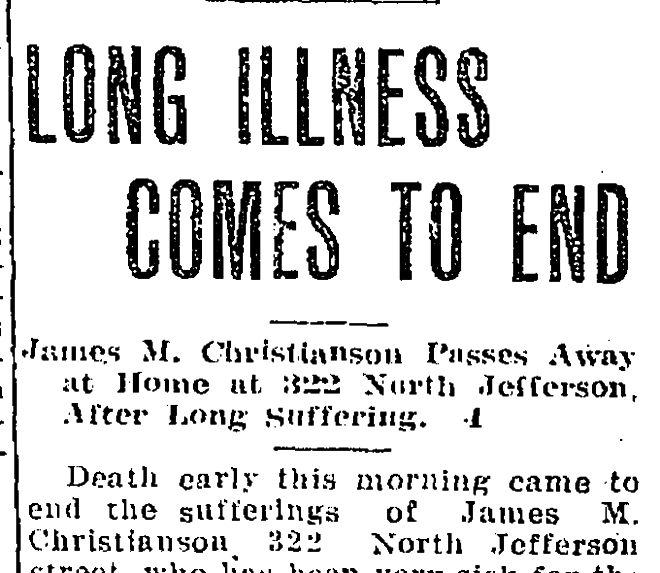 Moral of the story, yet again: Do not take the first piece of evidence you find as proof, even if it seems solid as rock.