The last couple of days I've been doing some quick research on an in-law, Andrew Fischer of Campbell County, South Dakota. He married Anna Lindemann, a relative of mine. I generally do some research on an in-law's parents, siblings and anyone else that can be considered "immediate family" in case those people's lives reveal something about my family.
Andrew Fischer was born in South Russia in 1903 and came to the US in 1910. His parents, Andreas and Magdalena Fischer, had more children after establishing themselves in Campbell County, South Dakota. (However, see my note in the final paragraph of this post regarding Andrew's parents.) The one I want to highlight is his brother, Arthur Fischer. Arthur Fischer was born about 1918 in South Dakota, and that's where things go wrong.
Somewhere along the line, someone found an Arthur Fischer who was born in 1918 and died in 1988 and was buried in South Dakota. They assumed this Arthur Fischer was the son of Andreas and Magdalena. After all, what are the odds of more than one Arthur Fischer born in 1918 and connected to South Dakota? Pretty good actually.
Searching the Social Security Death Index for Arthur Fischers born about 1918 with some connection to South Dakota results in seven people:
| Name | Birth Date | Death Date | Last Residence (City,County,State) |
| --- | --- | --- | --- |
| Arthur Fischer | 28 Oct 1918 | 6 Apr 1988 | 57754 Lead, Lawrence, South Dakota, USA |
| Arthur Fischer | 17 Mar 1918 | 7 Aug 1997 | 32798 Zellwood, Orange, Florida, USA |
| Arthur Adolph Fischer | 4 Jun 1916 | 22 Sep 2010 | 57078 Yankton, Yankton, South Dakota, USA |
| Arthur Fischer | 3 Jun 1915 | Dec 1961 | |
| Arthur M. Fischer | 20 Mar 1915 | 7 Sep 1999 | 57437 Eureka, Mcpherson, South Dakota, USA |
| Arthur J. Fischer | 6 Sep 1922 | 4 Dec 1993 | 57437 Eureka, Mcpherson, South Dakota, USA |
| Arthur Fischer | 22 Feb 1922 | Feb 1984 | 55112 Saint Paul, Ramsey, Minnesota, USA |
Two had their last residence in Eureka, just a 21 minute drive from Artas, where the "real" Arthur Fischer grew up. So which one is he?
According to ELCA baptismal records, the son of Andreas and Magdalena was born 17 Mar 1918:

The second Arthur Fischer listed above appears to be the correct one. Looking for an obituary for him, Genealogy Bank has the following (citing an obituary in the Orlando Sentinel):
79, Greenbluff Road, Zellwood, died Thursday, Aug. 7. Mr. Fischer was a quality assurance inspector for the U.S. government. Born in Artas, S.D., he moved to Central Florida in 1986. He was a member of Zellwood Golf Association. He was also an Army veteran of World War II and a member of Disabled American Veterans. Survivors: wife, Lois H.; sons, Bruce W., Inver Grove Heights, Minn., Bradley C., St. Paul, Minn.; sister, Elvina Huber, Mobridge, S.D.; brothers, John, Corvallis, Ore., Walter, Baxter, Minn. Woodlawn Funeral Home and Memorial Park, Orlando.
The obituary does not list his parents names, but the birthplace matches up. More importantly, Andreas and Magdalena had children named Alvina, John and Walter. Research on Alvina shows she married an Edward Huber. The Arthur Fischer who died in 1997 is the correct Arthur Fischer.
There are currently 10 family trees on Ancestry.com other than mine that include Arthur Fischer. As of today, all of them have his lifespan matching the first Arthur Fischer in the list above. And someone found the Find a Grave entry for the first Arthur Fischer, connected him to Andreas and Magdalena, added a bio, and included a photo.
That Arthur Fischer, however, was born in Napoleon, North Dakota, as his obituary states: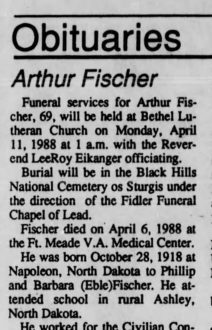 Maybe most of the people on Ancestry treat their trees there as "experimental" as I do, meaning, copy this at your own risk, as I haven't verified everything. What's on Find a Grave should be correct, however. People make mistakes. But it's clear that noone has done much verification on the information for Arthur, they simply copied what someone else had. If you value the accuracy of your tree, do that verification before you copy a tree into your own. Assume that people make mistakes.
I've let the maintainer of the Find a Grave entry know, and I expect it'll be corrected before too long. But those ten Ancestry trees, along with others on services I don't use, will probably remain incorrect for years to come. A lesson from that is to remember that correctness of genalogical information is not proven by majority vote.
In my case, the easy things to find on Arthur Fischer didn't reveal anything about Andrew Fischer, husband of Anna Lindemann. He died before Arthur, and I haven't found any crossover in their records after childhood. In fact, in my better database (not my Ancestry tree), I haven't included anything about the parents of the Andrew Fischer I'm interested in because I haven't found a solid connection between Anna Lindemann's husband and the rest of his family. Those same ten family trees are what suggested he is the son of Andreas and Magdalena. There's a lot of suggestive evidence that backs that conclusion from those trees, but nothing solid, much less sufficient for a G.P.S. proof argument.