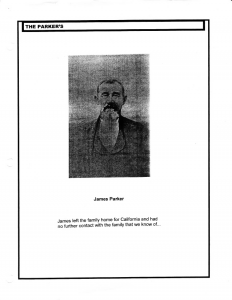 I've previously written about Patrick Parker and his wife Mary Murphy. One of the family legends passed on to me by other researchers was that they had a son names James who went off to California, never to be heard from again.
There is a James Parker who appears in the 1852 Census of Canada in the vicinity of Patrick Parker's family. He's born about 1832 in Ireland. However, that census does not list relationships so there's no telling if he's a son or some other relation to Patrick. In the 1860 US Census, there's a James Parker living with Patrick Parker's family in Glen Haven, Wisconsin. The age listed would put his year of birth about 1832, also in Ireland. Listed below him are Ellen, John and Napolean Parker. The 1860 US Census also does not list relationships, so it's not certain how they relate to Patrick either. But the placement is typical of an adult son who has married but is still living in the same household as his parents. It's not certain by any stretch of the imagination, but it's the most likely possibility.

I've researched all the other children of Patrick Parker and Mary Murphy who showed up in the United States, and have had some luck with tracking many of their descendants who lived mostly in Iowa. But this James disappeared after 1860.
And last night I found something intriguing. There appears to be a very similar entry for another James Parker in San Joaquin Township, Sacramento County in California, also in 1860.
Listed with this James Parker are an E., a John, and an N.J. Parker. They have similar ages, though slightly different. They are listed as from Canada and Wisconsin rather than Ireland and Wisconsin. But remarkably similar overall. At this point, I don't have anything to corroborate this record.
It was at this point that I started writing this post, thinking that I had a something interesting to follow up on for later.
However, as I am wont to do, I added this to my Ancestry.com tree for James Parker. I treat my Ancestry.com tree as a database of possibilities. I've even posted a note on it warning other people they should copy my tree at their peril. When I posted this census entry to the family of James Parker, Ancestry went to work and started matching new records. Now that they live in California, it starts ranking California based records higher in its sort. Nothing popped up for James Parker, but four new census entries showed up for John Parker, born in 1858 in Wisconsin and living in California.
The first of these is a John Parker living in Santa Barbara in 1900 with wife Margaret and children John Warren, Mary Ellen, James Galen, and Ruth M. Now, this is also no guarantee that this is the same John Parker. In fact, the link was tenuous enough that I did not add the record to my entry for John Parker even with the database of possibilities caveat. It would just be too hard to unwind if it turned out to be wrong. So I created a new, disconnected family for a new John Parker and recorded it. If the research was a dead end, I could just delete them all, I wouldn't have to disconnect them from the known Parker tree, and everything would be good.

I also added the 1910 US Census entry for the family (image not included with this post). This one had the same children, except that Mary Ellen is listed as Inez in 1910. Other people on Ancestry had added these two census records to families headed by a John Parker and Margaret Miscall.
The next step in this bread crumb trail of discovery is an entry in Ancestry.com's California Death Index. The California Death Index is just a list of death certificates that were filed with the state between 1940 and 1997. It's not a dispositive record without seeing copies of the underlying certificates, but I've generally had good luck with the index being correct. I haven't seen the errors for the database that I've seen with other transcriptions.
The entry that I found was this:

Name:	Mary Elleninez Gerard
[Mary Elleninez Parker] 	
Social Security #:	563325739
Gender:	Female
Birth Date:	1 Nov 1890
Birth Place:	California
Death Date:	5 Jun 1981
Death Place:	Orange
Mother's Maiden Name:	Miscall
Father's Surname:	Parker
Mary Elleninez Gerard (neé Parker)? That looks really promising, I thought to myself. Date of birth matches up, and the parents' surnames match up with what other people had found for John and Margaret. None of those researchers had linked the record to Mary Ellen Parker however. Nevertheless, I added a husband to her with a last name of Gerard so that Ancestry's search engine would look for her as part of a Gerard family. Nothing popped up immediately.
And nothing else popped up for any of the other family members at the time either. I haven't been doing real research in this process. This is just following my nose and poking around. It's late at night and I should go to bed. However…
Last year my great grand aunt Frances died at the age of 103. In June of this year, I picked up five boxes of photos and other personal effects that had been in her possession from a cousin. I've been paying my friend Kim to scan all these items so they'd be available for everyone in the family. One of the items is an album containing photos from what appears to be trips my great grandparents Joe and Frances Weiss took. They visited relatives in Colorado, Illinois and California. And toward the back of the album was a photo of a nun with an inscription that appeared to be Sr. M. Germaine Parker. It's hard to read.
I've thought Sister Parker might be a connection to one of the two missing branches of the Parker family. In addition to James Parker, there's also another John Parker who went missing in records after 1880. He probably exists somewhere, but John Parker is such an incredibly common name and records from the 1800s are often sketchy. I haven't found anything that matches up with him.
So I pulled out the album and looked for the photo. Sister Parker looks to be in her 30s or 40s, though it's quite hard to tell with her habit covering everything except her face. I flipped backward through the pages of the album looking for other photos of her. And then I saw this photo: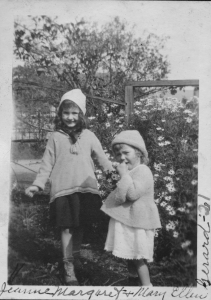 Gerard! Mary Ellen Inez Parker Gerard! Could these be her children? Must search harder for her! And bingo! In 1920, there's this census record:

Henry and Inez Gerard, living on Gardner Street in Los Angeles with children Jeanne and Mary Ellen, aged 4 and 1¼ years old. Those are the two girls from the photo. And Inez matches up with the daughter of John Parker.
And the most likely reason my great grandparents would be visiting the Gerard family that matches up with this trail is because they are related.
This is just the beginning. I'll have a lot of hard work to prove all of this. That record for James Parker may be incorrect. James may be a cousin of my great great grandmother Mary Parker and not her oldest brother. James himself may disappear from available records. But my great grandparents did not visit the Gerard family randomly.
This is why family genealogists should research the descendants of their ancestors. The descendants provided the link that may lead to valuable information about James Parker and ultimately my third great grandparents, Patrick and Mary Parker. had I not gone down the tree, James Parker may have remained among the disappeared.